"More than anybody else, Karrubi has formed illegal gatherings, ... But, so far, we haven't arrested him for doing such acts."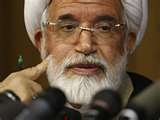 Tehran, Sept. 16, 2010, TABNAK - - A day after Tehran prosecutor general announced "the leaders of sedition will be brought to trial when the public opinion is ready," commander of the law enforcement forces announced that "Mahdi Karrubi has attended many illegal gatherings, has called for gatherings and has played the main role in many gatherings, but has not been arrested so far."
On Wednesday, prosecutor general Abbas Jafari Dolatabadi warned those who he referred to as "the leaders of the post-election sedition of summer 2009" to be aware that they will be brought to trial because "people have filed lawsuits against them."
Their trials will be held when "it is prudent for the Islamic system and when the public opinion is ready," he said.
Commenting on the illegal gathering of a group of attackers in front of former presidential candidate Karrubi's home few hours before the beginning of the Qods rally on September 3, Major General Esmaeel Ahmadi Moghadam told reporters on Thursday that "it is not a common practice that the police arrest and confront people every time they gather in a place."
"More than anybody else, Karrubi has formed illegal gatherings, called people to gather and has been the main element in many illegal gatherings. But, so far, we haven't arrested him for doing such acts," Ahmadi Moghadam said.
The commander said the judiciary has not yet forwarded any information about attackers on Karrubi's home to the disciplinary forces, though his office has sent preliminary information about the attackers to the judiciary.
Referring to karrubi's attitude, the general said "these individuals must avoid provocative behavior. Their acts of issuing statements on the eve of Quds day and their provocative attitude will not remain unanswered."
"Undoubtedly, in such conditions, some people will gather in front of these people's homes with the aim to confront (their provocative acts).
Last Monday, police chief Hossein Sajedinia announced that some 100 assailants on former presidential candidate Mahdi Karroubi's home have been identified. "Their names have been submitted to the judicial authorities," he added.
He noted that none of the suspected assailants have been arrested yet, and police are waiting for a judicial authority's permission in this regard.
On the other hand, Dolatabadi said Wednesday that nobody charged with assaulting Karrubi's home has been handed over to Judiciary officials.
END