Nov. 27, 2010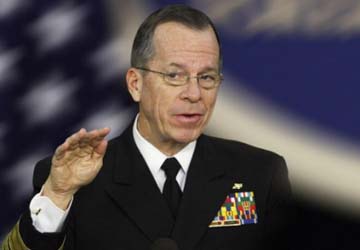 Washington- The United States would attack Iran if it became necessary to stop the regime from acquiring nuclear weapons, chairman of the US Joint Chiefs of Staff Adm. Mike Mullen said. Asked on NBC's "Meet the Press" whether the Pentagon had a strategy for military action against Tehran, the chairman of the joint chiefs replied, "We do."
Mullen went on to say that while such a military option is undesirable, the acquisition of nuclear weapons by Iran is simply unacceptable.
He said he hoped the West's current approach of imposing increasingly strict sanctions on Tehran would be enough of a deterrent.
Striking Iran could have "unintended consequences that are difficult to predict in what is an incredibly unstable part of the world," Mullen said.
++++